2011 India Trade Conference - FAQ
Frequently Asked Questions on the 2011 India Trade Conference

What are the directions to the conference location?
Conference Address: Cerritos Center for the Performing Arts, 12700 Center Court Drive, Cerritos, CA 90703
Detailed info at http://www.cerritoscenter.com/planyourvisit/gettinghereandparking.aspx?id=122
What are the hotel room options for the 2011 India Trade Conference?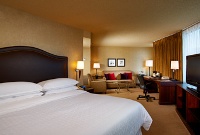 The Cerritos Sheraton is across the way from the Cerritos Center for the Performing Arts conference location. Address: Sheraton Cerritos Hotel, 12725 Center Court Drive, Cerritos, CA 90703

Special negotiated room rate: $139.00 and up. Please call the Sheraton at 1-888-627-7093 and mention "India Trade Conference" or go to the Custom ITC Hotel Registration Link. These special rates are valid until Wednesday, June 15th, 2011. Rates may vary depending on availability. Hotel Facility Details


Who do I contact to get more info on sponsoring the event or anything else?
Drop us a line at itc@quantaco.com and our crack team shall respond at internet speed. You can call us at 949-480-9466 x300. But email response may be faster, as we blackberry you back promptly, even if a little surreptitiously.


Who are the conference attendees?
Please see the Conference Details PDF for information on delegates.

Partial list of past attendees:
Allogistx
American Induction Technologies, Inc.
APEX
Asian Business Association, LA
Asian Business Association, OC
Bank of America.
Brea Commodities
California Board of Equalization, State of California
Comerica Bank.
DCP Global Partners
Department of Economic Development & Commerce, State of California
Disney Worldwide Services, Inc.
Embassy of India, Washington DC
Exotic Adventure & Travel Magazine
Fedex
Gupta Consulting Group, Inc.
HSBC N.A
Interactive Teamworks
International Trade Administration, U.S. Department of Commerce
IPD
Irwindale Chamber of Commerce
Kaarya LLC
Kroll Risk Management
Los Angeles Board of Harbor Commissioners
Los Angeles World Airports
MacroVantage
Marriott International
Merrill Lynch
Morgan Stanley Smith Barney
Network of Indian Professionals (NetIP LA-OC)
Online Startup
Parker Energy
Phistar Solutions
Port of Los Angeles
Quanta Consulting, Inc.
SDS, Inc.
Southern California Edison.
TC International
The Walt Disney Company
TiE
U.S. Export Assistance Centers (Alternative Fuels / Renewable Energy)
UC Irvine
Union Bank, N.A.
US Chamber of Commerce*
U.S. Commercial Service, U.S. Dept of Commerce
USC Marshall School of Business
Wells Fargo Bank
West Coast Consulting, LLC
...and many others.

What is the dress code?
Business or business-casual attire.


What is the story on parking?
Ample free parking in the mega parking lot at the Cerritos Center for Performing Arts.

Is there WiFi wireless internet at the conference?
Yes. complimentary WiFi is available for all conference delegates.


What is being served at lunch?
Special Authentic Indian Lunch with the following delicacies. Some items may change depending on what is fresh in the market that day...
Chicken Curry
Palak Paneer
Dal of the Day
Garlic Naan
Plain Naan
Basmati Pullao Rice
Chicken Biryani
Ice Cream
Masala Chai Tea